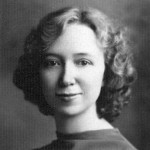 Velda Oneta Simon
Born October 11, 1917 in Quinter, Kansas Died July 31, 2006 in Shawnee, Kansas Married
Clifford William Mills
February 6, 1938 in Marysville, KS Married
Walter Ernest Kelsey
August 23, 1951 in Bentonville, AR Parents:
Walter Scott Simon
Mabel May Corrick
Children:
Jeanne Ann Mills
Three other children Velda grew up in Western Kansas and had many stories about going to school during the Dust Bowl. One of her chores was to pick up cow "chips" to burn for heat, because there was not enough wood. Thanks to the chickens and her mom's fresh bread, she had a fried egg sandwich to eat every day at school. She learned to raise, kill, clean and cook chickens at an early age. Chores were important to the family's survival and the girls made them more fun by singing in four-part harmony. The whole family was very musical. Moving to Wamego was important in her life and she enjoyed going to Wamego High School with her cousin, Opal Mae. Pop taught her to drive in a Model A Ford. On graduation from high school, her father expected her to move out and get a job, as they had more mouths to feed. Velda got a job at a hot dog factory and spent her first check buying a Singer sewing machine that is still working today. She made all of her own clothes and could tailor a suit as well. During WWII, Velda worked as a cook and housekeeper for a general and his family at Ft. Riley. He had lived all over the world and he asked her to learn to make some of the exotic dishes that he loved, so she learned to make Indian curry and Chinese dishes. She met her first husband there. Lt. Clifford Mills served in the Phillipines and was the first soldier to raise the American flag on Leyte. He was killed in battle there. A monument on
Leyte
mentions his name. After the war, Velda married a returning sailor who also grew up in Wamego. With little work in the area, Velda and Walter moved the family to Kansas City and Walter built a house there. Walter worked as a union carpenter until he suffered a massive heart attack on the roof of a house. Velda was forced to re-learn to drive a car and had to find work to support the family until Walter's disability kicked in. She worked for Topsy's making candy and popcorn treats and managing their lunch counter. Then, she practised up on her typing, passed the Civil Service exam and was hired at KU Medical Center, where she would work in medical records for over 20 years. Walter died in 1973 from a second heart attack. Velda was a great cook and an avid reader. She enjoyed making clothing and she crocheted almost every day. Both Beryl and Velda had Alzheimer's disease, but they outlived all their other brothers and sisters. During their last visit together, Beryl could not remember much until Velda began to sing "The Old Rugged Cross" and the two sisters sang all the verses in perfect harmony.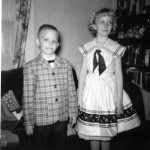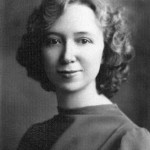 [Top]