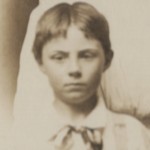 Francis Lewis Simon
Born June 8, 1901 Southwest of Onaga, Kansas Died May 10, 1963 in Silver Plume, Colorado Married
Bertha Caroline Brockish
January 1926 Parents:
Francis Lafayette Simon
Jennie Kandis Dinwiddie
Children:
Jenny Jo Simon
B. Simon
Georgia's memories of Frank
Francis grew up in Westmoreland, Kansas. He was an auto mechanic on the early makes of cars and he had a Stutz Bear Cat race car. In 1926, Francis married Bertha, who taught school before her marriage. She worked at the telephone office in Westmoreland. Francis and Bertha built a house trailer and went to Colorado to work at a sawmill in Pine. Bert skidded logs with a team of mules and worked as a cook in several restaurants. Later, they worked at cutting timber at Kremmeling, Shaffer's Crossing and Del Norte. Francis enjoyed exploring old mines for gold, hunting and guiding hunting parties. He told of camping out once and laying by the fire. When he woke up, the brim of his hat had been burned off. When Frank and Bert lived in Breckenridge, he worked as a carpenter and stone mason. He did stone work on a church at Lookout Mountain and on the Boettcher Mansion (now a historic site). Francis was killed in a car accident on a mountain pass near Silver Plume, Colorado.
[Top]