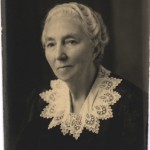 Jennie Kandis Dinwiddie
Born September 18, 1865 in Marmont, Indiana Died November 4, 1952 in Westmoreland, Kansas Married
Francis L. Simon
February 16, 1885 in Westmoreland, KS Parents:
David Milton Dinwiddie
Sarah Elizabeth Odem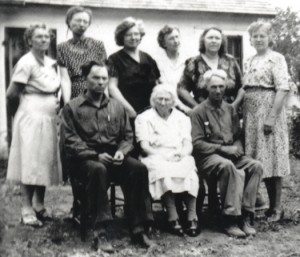 Children:
Bertha Rebecca Simon
Walter Scott Simon
Nannie Belle Simon
Sarah Elizabeth Simon
Alice Lola Simon
Mollie Goodren Simon
Francis Lewis Simon
Hallie Grace Simon
Jennie lost her mother at age 3 when her mother died giving birth to a son, who also died. Up until her teen years, she lived in the homes of the Reverand Wilson at Blaine, Kansas, and the Reverand Sikes near Fairview, Kansas. At about age 13 she, with her father, moved to a farm home near Blaine where she kept house all of her teen years. During this time, she met her future husband. They married in Westmoreland, in or near which most of their married life was spent, with the exception of a few years in Colorado and western Kansas. Jennie was a nurse who cared for many in their homes in Westmoreland and in neighboring communities.

[Top]