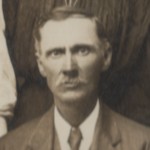 Francis Lafayette Simon
Born September 4, 1856 in Athens, Ohio Died January 1, 1929 in Westmoreland, Kansas Married
Jennie Kandis Dinwiddie
February 16, 1885 in Westmoreland, KS View the ancestors of Francis Lafayette Simon here.
Pedigree Chart for Francis Lafayette Simon
Parents:
Frederick Auguste Simon
Sarah Emeline Benton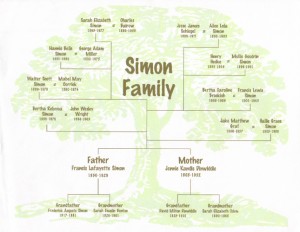 Children:
Bertha Rebecca Simon
Walter Scott Simon
Nannie Belle Simon
Sarah Elizabeth Simon
Alice Lola Simon
Mollie Goodren Simon
Francis Lewis Simon
Hallie Grace Simon
Frank came to Kansas with his parents and siblings in 1869. They settled in Neuchatel in Nemaha County. Frank and his wife, Jennie, cooked for the railroad crew in Graham County and western Kansas. They herded cattle on the plains of western Kansas when Bertha was a baby. One day while Jennie and the baby were in the covered wagon in which they lived, the cattle stampeded and Jennie was sure the wagon would be tipped over and they would be trampled to death. But the cattle went around the wagon and it stood. Frank and Jennie moved many times, attested by the birth places of their children. Frank farmed and worked for farmers in the Onaga area. He also worked with his son-in-law, Charles Bairow, in the flour mill in Westmoreland; and with another son-in-law, George Miller, when Miller and Hause did custom threshing with a steam engine. From
Old Settlers' Tales
by F.F. Crevecoeur: "Frank went to Illinois with his uncle, Mr. Benton, in 1874. Mr. Simon (August) sold out to L. J. Glover in 1875, and moved back to Illinois. His sons Ed and Frank, came back to this locality, in 1877, stayed a year, and then went back to Illinois and stayed that winter, and the next spring they came back to Kansas, with their parents and their brother, Fred."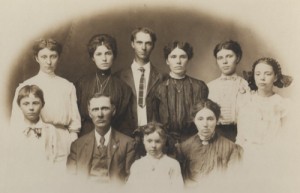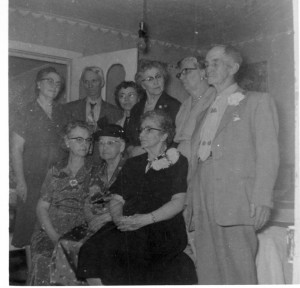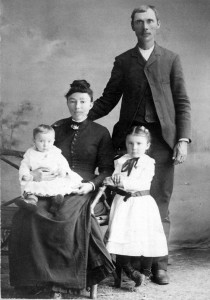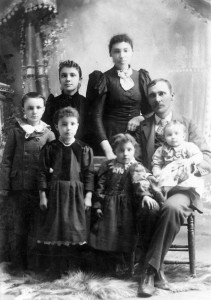 [Top]