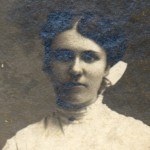 Bertha Rebecca Simon
Born January 21, 1886 near Blaine, Kansas Died September 12, 1976 in Wamego, Kansas Married
John Wesley Wright
April 11, 1907 in Seneca, Kansas Parents:
Francis Lafayette Simon
Jennie Kandis Dinwiddie
No children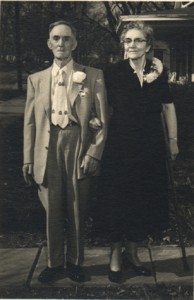 Bertha was the oldest child of Frank and Jennie. After marrying John, they lived near Onaga, then moved to a farm near Chaney, Olkahoma. They grew kafir and broom corn. Their chicken house was made of sod. Bertha carried mail part of the time. One winter, they made the trip to Kansas in their Model T, and on the way home the brake bands went out. They got some pork rinds from someone and put them on and made it home. John said the wind blew so much where they lived that he didn't have to shave. When George and John overhauled the engine of John's car, they had to put it and the parts in a barrel of water to keep the sand out. Bertha and John sold the farm and moved to Gage, Oklahoma, where Bertha worked in a laundry and John did odd jobs. After several years, they bought a farm northeast of Emporia, then sold it and moved to Wamego. Bertha helped care for her mother and John did carpentry work. John died of a heart attack in 1963 and Bertha died in 1976. They are buried in the Wamego City Cemetery.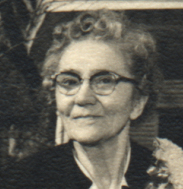 [Top]